Risk from neonicotinoids is 'not acceptable' and EU must limit use to winter crops, says charity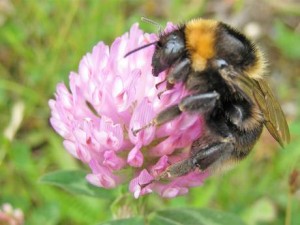 Controversial nerve-agent pesticides widely linked to decline in bees around the world should be banned, the Royal Society for the Protection of Birds (RSPB) says today.
Neonicotinoids should no longer be used on crops which attract bees and other pollinating insects, the RSPB says, in a call for the Government to support a proposed EU ban on the three most common neonicotinoid substances.
The intervention of the million-member society comes after a mounting tide of evidence indicating linkages between the use of the chemicals, made by the agribusiness giants Bayer and Syngenta, and collapses in colonies of honey bees and bumblebees.
More than 30 separate scientific studies in the last three years have shown adverse effects on insects from neonicotinoids, which are "systemic" insecticides, meaning they enter every part of the target plants – including the pollen and nectar which bees harvest. In January, the European Food Safety Authority (EFSA) published a scientific opinion recommending that the three main substances – imidacloprid, clothianidin and thiamethoxam – should not be used on crops attractive to bees. RSPB agricultural policy officer Ellie Crane said yesterday: "We've been reviewing the science for a long time, and scientists are telling us that neonicotinoids might be killing bees.
"Everyone is basically coming to the same conclusion: there's a real and present danger on crops that are attracting bees because these substances are present in the pollen and the nectar. We have come to the conclusion that the risk is not acceptable." The call, formally made today on the blog of the RSPB Conservation Director, Martin Harper, will put significant pressure on the Government to go along with a recommendation from the European Commission, following the EFSA report, that the chemicals should indeed be withdrawn.
So far, the Department for Environment, Food and Rural Affairs (Defra) has refused to consider suspending or banning the substances, because it believes that there is no "unequivocal evidence" that they are causing harm.
Defra has now commissioned its own research into the impact of neonicotinoids on bees and the Department is waiting for the results of field studies being carried out by the Food and Environment Research Agency (FERA). These will be assessed by the Government's Advisory Committee on Pesticides, and on that basis, a decision will be taken about whether to support a ban.
The key vote will be in a Brussels meeting of the EU Standing Committee on the Food Chain and Animal Health, to consider a draft regulation from the European Commission. This would restrict use of the three neonicotinoids to winter cereals and other crops that are not attractive to bees.